close to public transport
contact the daycare centre
How can I help you? Contact me for more information about the daycare centre and/or to book a visit. I'm looking forward to meeting you.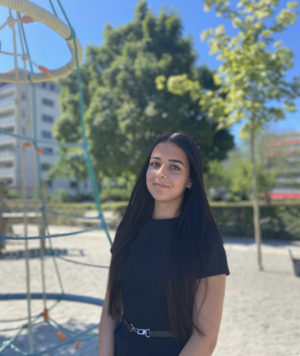 Vanessa Blumer
Kitaleitung
Vanessa completed her three-year training as a childcare assistant at the pop e poppa länggasse-forsthaus daycare centre in July 2020. Afterwards, she was able to gain a lot of experience as a group leader and professional trainer. An internal project of pop e poppa supports Vanessa in her further training as a team leader in social and socio-medical institutions, which she started in September 2020. At the same time, she took over the management of her former teaching company.
Not all children learn the same things at the same time in the same way! -Kathy Walker
presentation of the daycare centre
The forsthaus daycare centre, which has been an integral part of the daycare centres in Bern for 10 years, has joined the pop e poppa network in June 2019.
A professional team of young, motivated and experienced childcare providers accompanies and supports the children individually and in a playful way as they take their first steps towards independence. The children are recognised as individuals with their own personalities, and are given plenty of space and time to try out new activities, consolidate what they have learned and develop new skills.
The work of the Forsthaus daycare centre is based on the latest pedagogical findings and combines the best concepts of several pedagogical approaches.
Once a week the children can let off steam in a sports hall and they regularly enjoy early music education, which introduces them to music, instruments, singing and making music. Various outdoor activities such as forest walks are also regularly on the programme.
The Forsthaus team supports parents with advice and helps them achieve a better work-life balance.
Discover more free places in the pop e poppa daycare centres in the city of Bern and the surrounding area.
pep all inclusive

Nappies, infant milk and food are included in the price.

pep app

At pop e poppa you obtain easy and secure access to a free app, which lets you receive important messages and follow the adventures of your child in picture form. It is comforting to know that your child is having a lovely day.

pep extended

At pop e poppa we can organise childcare prior and after to the regular opening hours at our daycare centres.

pep flex

Total flexibility: book days of care and reschedule weekly if needed.
Forsthaus in images