Contact the daycare centre
How can I help you? Contact me for more information about the daycare centre and/or to book a visit. I'm looking forward to meeting you.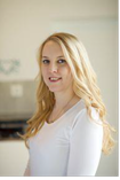 Marla Koch
Manager
I have been working as a daycare centre manager for 2 years and in addition to my training as a childcare educator, I have also completed the training to become a federally certified management specialist as well as a vocational trainer.
The best way of seeing the world through the eyes of a child. -Henri Matisse
Presentation of the daycare centre
The daycare centre pop e poppa zürichberg is located in a very central location in a wonderful villa in Hottingen, Zurich. The daycare centre is conveniently accessible by public transport, with tram number 8 or 3 from Zurich main station. Of course, it is also possible to bring your child by car.
The large garden and the nearby Dolderwald in Zurich are particularly popular with the children. They experience nature and have plenty of exercise. Various nearby playgrounds in the very familiar neighbourhood are available for the children to play and have fun.
In the pop e poppa zürichberg daycare centre, there are 3 mixed-age groups for children from 3 months to kindergarten age. We regularly keep an individual "portfolio" for each child to record their development and where they can develop creatively.
The daycare centre pop e poppa zürichberg is "eco-friendly" certified. This means that the children are involved in sustainable activities, such as the recycling of glass and PET. In general, they are taught frugality and the importance of sustainability.
Discover more free places in the pop e poppa daycare centers in Zurich.
pep all inclusive

Nappies, infant milk and food are included in the price.

pep app

At pop e poppa you obtain easy and secure access to a free app, which lets you receive important messages and follow the adventures of your child in picture form. It is comforting to know that your child is having a lovely day.

pep extended

At pop e poppa we can organise childcare prior and after to the regular opening hours at our daycare centres.

pep nanny

At pop e poppa we support you in emergency situations and can organise childcare at your home within 24 hours in conjunction with our familizy service.
in images