close to public transport Contact the daycare centre
How can I help you? Contact me for more information about the daycare centre and/or to book a visit. I'm looking forward to meeting you.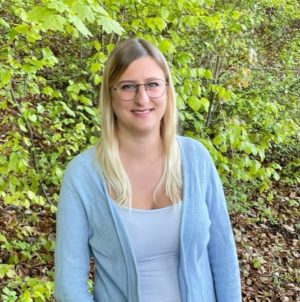 Marina Riederer
Manager
Marina has been working as a daycare centre manager at Leuehöhli since March 2022. She has 8 years of professional experience as a childcare assistant and brings with her a HF degree in the field of child education as well as a leadership diploma.
Help me to do it myself. Show me how to do it. Don't do it for me. I can and want to do it alone. -Maria Montessori
presentation of the daycare centre
Our group has been running the pop e poppa leuehöhli daycare centre since 2001. All of our 3 children's groups are based on the extended premises of a charming old building. The perfectly suitable rooms are ideal to implement our high level education.
The daycare centre is situated close to the train station and is also easily accessible by car (parking places in the blue parking zone are available, additionally we have two parking places at pop e poppa leuehöhli to facilitate the drop-off and pick-up of your children), but is nevertheless located in a quiet neighbourhood.
It features a small interior yard with a playground and is close to other green spaces and public playgrounds.
pep all inclusive

Nappies, infant milk and food are included in the price.

pep app

At pop e poppa you obtain easy and secure access to a free app, which lets you receive important messages and follow the adventures of your child in picture form. It is comforting to know that your child is having a lovely day.

pep extended

At pop e poppa we can organise childcare prior and after to the regular opening hours at our daycare centres.
Leuehöhli in images