close to public transport Contact the daycare centre
How can I help you? Contact me for more information about the daycare centre and/or to book a visit. I'm looking forward to meeting you.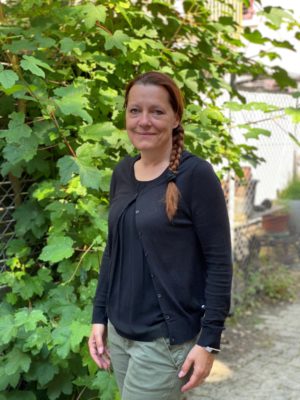 Ute König
Kitaleiterin
For more than 15 years now, Ute, as daycare centre manager, has been creating a multifaceted learning environment in the everyday life of children together with her team. The successful graduations, such as the course of studies 
"
crèche pedagogy", "training to become a state-approved educator" and the additional pedagogical training for Reggio pedagogy with the subsequent management training to run a day care centre fill her backpack with experience and competence.
I chose this career because it is the greatest gift for me to be able to support the child in exploring and discovering its environment. It pleases me to notice a happy smile on the faces of the children during their journey of discovery.
presentation of the daycare centre
Our group has been running the pop e poppa leuehöhli daycare centre since 2001. All of our 3 children's groups are based on the extended premises of a charming old building. The perfectly suitable rooms are ideal to implement our high level education.
The daycare centre is situated close to the train station and is also easily accessible by car (parking places in the blue parking zone are available, additionally we have two parking places at pop e poppa leuehöhli to facilitate the drop-off and pick-up of your children), but is nevertheless located in a quiet neighbourhood.
It features a small interior yard with a playground and is close to other green spaces and public playgrounds.
pep all inclusive

Nappies, infant milk and food are included in the price.

pep app

At pop e poppa you obtain easy and secure access to a free app, which lets you receive important messages and follow the adventures of your child in picture form. It is comforting to know that your child is having a lovely day.

pep extended

At pop e poppa we can organise childcare prior and after to the regular opening hours at our daycare centres.
Leuehöhli in images