close to public transport Contact the daycare centre
How can I help you? Contact me for more information about the daycare centre and/or to book a visit. I'm looking forward to meeting you.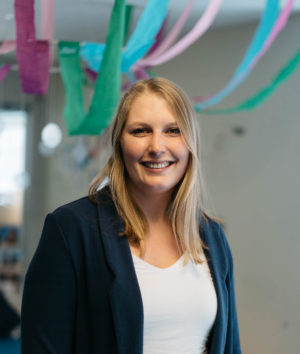 Karen Hunt
manager
In July 2020, Karen took over the management of pop e poppa bäretatze, after 6 years in the care team. In addition to her training as a specialist caregiver, she has a HF degree in childcare. Soon Karen will start the CAS in Leadership Management.
With us the children should find a safe place where they can learn in a playful way, make contacts and relax.
presentation of the daycare centre
The pop e poppa bäretatze daycare centre has been run by our group in close co-operation with the Zurich Insurance Company since 2003. The centre is located in the immediate vicinity of the head office in the Lilienthal complex in Glattpark Zurich-Opfikon. Its places are also available to the staff of other partner companies, particularly Credit Suisse and Holcim, as well as the residents of Opfikon. They are co-financed by the partner companies and the City of Opfikon.
Since July 2017, pop e poppa bäretatze offers children from 3 to 7 before and after school care as well as lunch.
The facility is located directly opposite of the Lilienthal kindergarten. The children are collected and returned to the kindergarten.
Easy to reach by car and public transport, the before and after school facility is situated in a quiet location and features bright, child-appropriate rooms as well as a spacious, well-protected play garden on the first floor. It provides children with ample free space and room to explore, both inside and outside the building.
pep all inclusive

Nappies, infant milk and food are included in the price.

pep app

At pop e poppa you obtain easy and secure access to a free app, which lets you receive important messages and follow the adventures of your child in picture form. It is comforting to know that your child is having a lovely day.

pep event

At pop e poppa you receive regular invitations to workshops and talks on topics related to young children by renowned specialists from the fields of education, parenting, health, nutrition and neuroscience.

pep extended

At pop e poppa we can organise childcare prior and after to the regular opening hours at our daycare centres.

pep flex

At pop e poppa you can specify when you want to bring your child to the daycare centre or pick them up again.

pep lounge

At pop e poppa you can use our parent lounges to simply take a break or make new acquaintances.

pep nanny

At pop e poppa we support you in emergency situations and can organise childcare at your home within 24 hours in conjunction with our familizy service.
Bäretatze in images