child friendly neighboorhood
close to public transport
The daycare centre becomes bilingual (FR+DE)
Contact the daycare centre
How can I help you? Contact me for more information about the daycare centre and/or to book a visit. I'm looking forward to meeting you.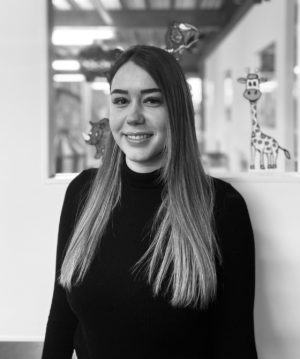 Sophie Gurtner
Manager
Passionate about the world of children and their development, I began studying to become a socio-educational assistant in 2013.  I worked with children aged between 3 and 24 months for a year and a half. Since January 2018, I joined the daycare centre pop e poppa les gardénias in order to bring my required experience to a new group. For one year I looked after the children's well-being and development. At the same time, I also obtained my certificate as an apprentice trainer. In September 2020, I took over the position of manager. Knowing perfectly the group and its needs, I continue to work 2 days a week with the children and the educational team.
Support consists of understanding the child as he is without imposing on him the image of what we think he should be. -Jiddu Krishnamurti
Presentation of the daycare centre
From the 16 August, the daycare centre les gardénias becomes bilingual.
The pop e poppa murifeld les gardénias daycare centre is the only French-speaking and bilingual (French-German) daycare facility in Berne. It is located in the Wittigkofen district and is very close to the Cantonal School of French Language (ECLF).
The daycare centre is situated in a quiet, pedestrianised quarter surrounded by play areas. The children can enjoy visiting farm animals on their walks and watching the fish in the pond at the nearby nursing home.
The teams offer varied activities that meet the needs of the children. The child is considered an agent in their own development in a close natural environment.
The underlying values of the educational project are the individual, nature, enjoyment, sharing, learning by experience and discovery.
Access is facilitated by a tram stop "Wittigkofen" close by and free parking.
We will be delighted to welcome you to at the daycare centre pop e poppa les gardénias. Discover more free places in the pop e poppa daycare centres in the city of Bern and the surrounding area.
pep all inclusive

Nappies, infant milk and food are included in the price.

pep app

At pop e poppa you obtain easy and secure access to a free app, which lets you receive important messages and follow the adventures of your child in picture form. It is comforting to know that your child is having a lovely day.

pep event

At pop e poppa you receive regular invitations to workshops and talks on topics related to young children by renowned specialists from the fields of education, parenting, health, nutrition and neuroscience.

pep flex

At pop e poppa you can specify when you want to bring your child to the daycare centre or pick them up again.
les gardénias in images